Diving Sulawesi – Selayar Island, the best diving in South Sulawesi
If you are not looking to spend your holiday time on slow dive boats, suited up in the sun then Selayar Dive Resort is your ideal destination. In our dive resort you spend your non-diving time on shore with your friends or partner enjoying our beautiful white sand beach and tropical setting. Hours on dive boats are not necessary in Selayar Dive Resort as we are not just located close to the marine park, we are right in the middle of it! Our fast speedboats can reach even our furthest dive sites in 15 minutes which means less travel time and more time relaxing in the resort – or more time diving!
Diving Sulawesi Indonesia
The shape of the Sulawesi land mass itself, with its unusual arm like projections, reminds many people of an octopus – already conjuring up images of the underwater world!
Diving Sulawesi Indonesia House Reef and Giant Clam diving Indonesia
Images: Click F11 for Fullscreen
The giant island of Sulawesi lies in the heart of the "Coral Triangle" which includes the Philippines, the small island chain of Sunda, the North of Papua New Guinea and the Solomon Islands. This area is world renowned for its incredible marine biodiversity both in terms of coral and fish species. Scientists theorize that the geographical position of this area – where the Pacific and Indian Oceans meet holds the key to its wealth of marine life. Over 75% of all of the world's hard coral species can be found here, over 3,000 species of fish occupy the reefs and 6 out of 7 sea turtle species come here to breed – and the list of such statistics goes on.
Diving Indonesia Sulawesi Jacks and Eagle Ray diving Sulawesi Sting Ray
Diving Sulawesi is unlike diving anywhere else in the world; unique creatures and critters are found here, dive sites range from slopes to walls and even caves, the reefs are bursting with life and are waiting for you to explore them. On land Sulawesi is equally as fascinating with towering volcanoes, fertile rainforests and pristine tropical islands and beaches. The people of Sulawesi are friendly and welcoming to visitors and one area of particular cultural interest is the Toraja area in the mountains of South Sulawesi where local traditions have remained unchanged for thousands of years. This magical land promises you a stunning holiday both on land and underwater.
Ready to dive? Click here: Dive Sites Sulawesi Selayar Dive Resort
If you want to know more about our dive centre, equipment, boats and dive team, read on below.
Dive Center
Dive Center Sulawesi Indonesia Selayar Dive Resort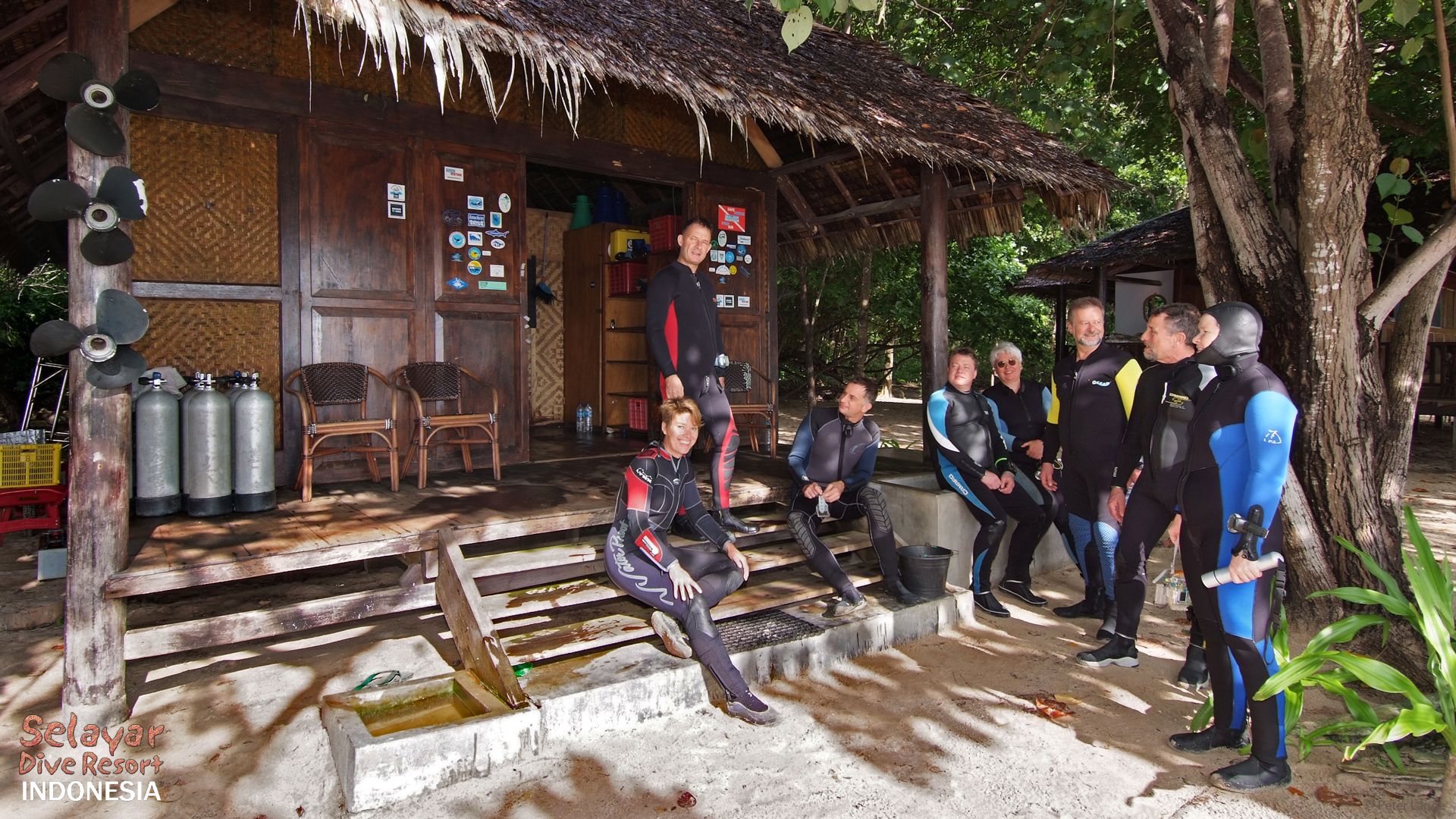 Our dive center is positioned next to the restaurant in the center of the resort and just a few steps from the jetty. We have 60 12 litre tanks and 4 15 litre tanks with International valve fittings (DIN adaptors are available for those travelling with DIN fitting regulators). Tanks are stored at the dive center so there are always plenty ready and waiting for those wanting to make use of their unlimited House Reef diving package. When we head out for boat dives you will find your gear already on the boat, assembled as you like it and ready for you to simply put on. We use 3 Bauer compressors to fill tanks which guarantees divers quality breathing air – our compressors are discreetly positioned in the jungle behind the resort meaning that there is no background noise heard in the resort.
Safety is a major priority at Selayar Dive Resort and we have two emergency breathing oxygen kits located in the dive center along with first aid supplies. Our nearest recompression chamber is located in Makassar. Also in the dive center we have rental equipment which is available for hire at a small surcharge. DIN adaptors, surface marker buoys, weights and tanks are all of course included in your packages for free. Outside of the dive center we have two wash tanks, one for sensitive equipment such as computers and cameras, the other for your sandy gear such as wetsuits and boots etc.
Please note that as well as your equipment you should also bring your dive certification cards and logbooks with you to the resort.
Dive Boats
Diving Sulawesi Boat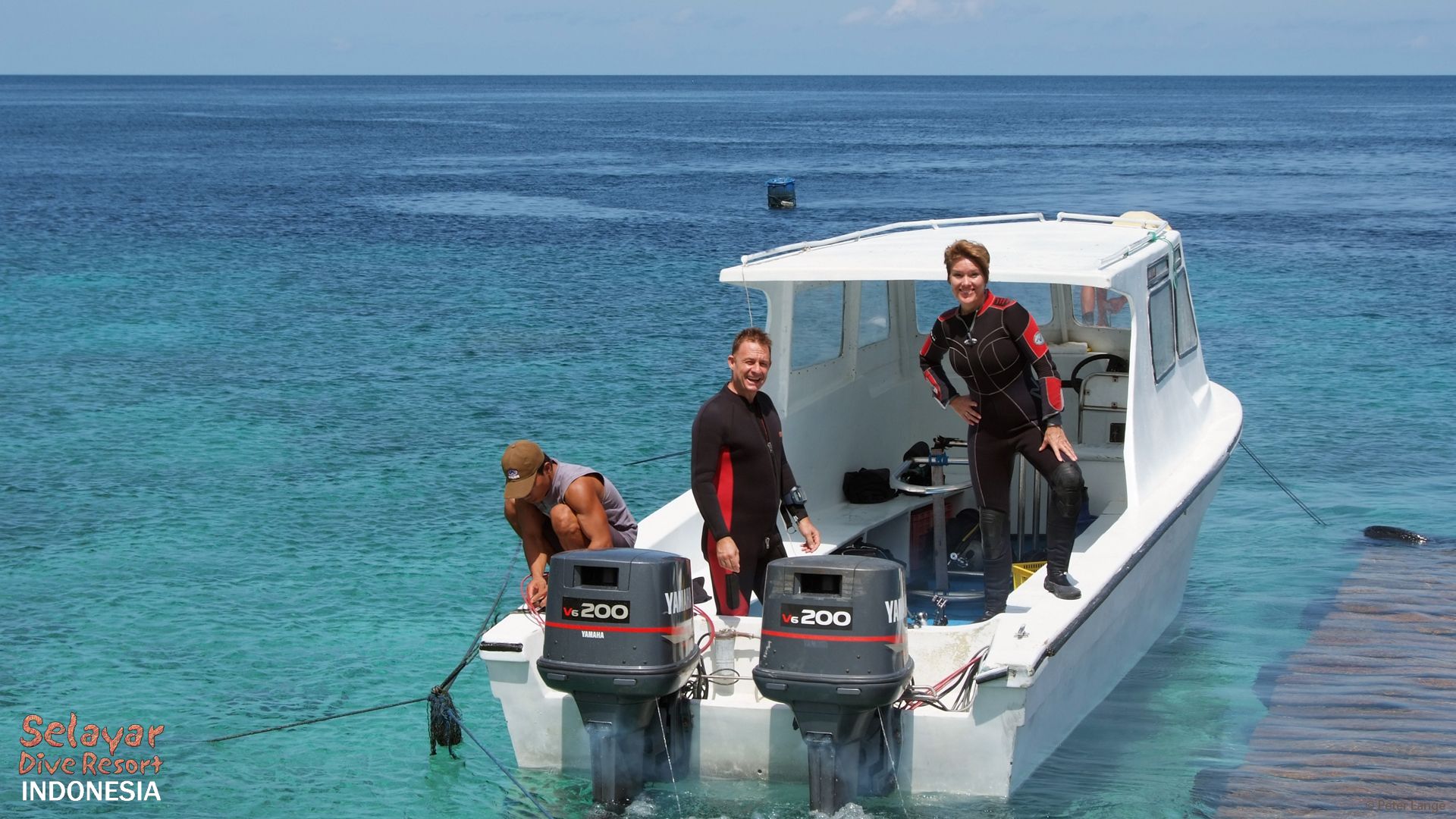 Our dive boats will transport you to sites in comfort and, with up to 400 horsepower engines, journeys are fast with no time being wasted. We have 3 boats so we are able to send divers to a range of sites according to guests' requests and conditions. Our dive boats are built to strong specifications which means we are able to use them for our private transfers from the South Sulawesi mainland. Underneath each seat on the boat there is space for your personal equipment box which ensures your gear stays together and is always ready for you. For cameras we have specific cushioned boxes to protect your photography equipment and every boat carries a large ladder so climbing back on board (after your equipment has already being lifted out of the water for you) is a breeze!
Boat Diving Sulawesi Indonesia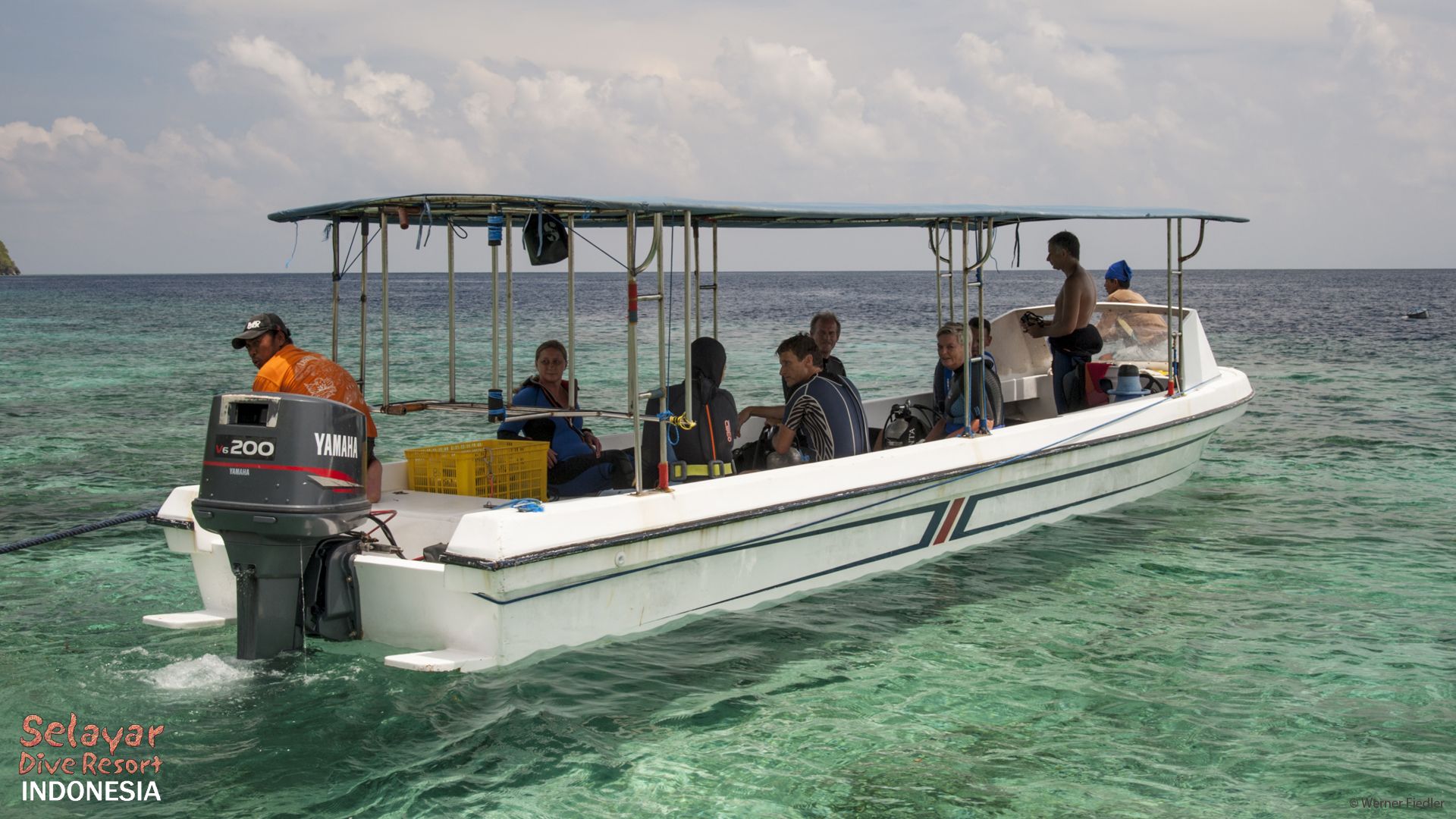 Daily Schedule
We meet for each dive at the dive center at the scheduled time. Times are based on the tides and are announced each evening at dinner time for the following day. Because we always try to pick optimum times for diving (according to the conditions) departure times vary from day to day – ensuring you the best diving experience possible.
Upon meeting at the dive centre there is a dive site briefing before we head out to the boat where your equipment is already assembled and waiting for you. After a short boat ride (maximum 15 minutes) you will be at the dive site and ready to run through your buddy checks. Once everyone is ready the guides will coordinate the entry with their group and underwater they will both guide you and show you the wonderful marine life that occupies the reefs. After diving your equipment will be lifted back on to the boat for you and you simply exit up the long ladder. Once we return to the resort your gear is either disassembled for you and stored away for the next day or changed on to a fresh tank for your next dive – we believe in making everything as easy as possible for our guests – this is your holiday!
Diving Sulawesi Indonesia
House Reef Diving Indonesia Sulawesi Sponge

Diving Sulawesi: The ocean around Sulawesi is one of the most marine diverse territories in the world. Diving Sulawesi sets your pulse racing as you explore pristine reefs covered with gorgonian fans, sponge, soft and hard corals and huge colourful sponges. Diving Sulawesi does not just mean beautiful corals; there is a phenomenal range of reef fishes and encounters with sea snakes, turtles, sharks and rays are common. The water temperature is a constant 26 – 30 degrees which makes a 3 – 5mm suit ideal.